meta data for this page
Research projects
Here are some research projects to which the jEPlus team has made contributions.
---
Adapting Service lifeCycle towards EfficienT Clouds (ASCETiC)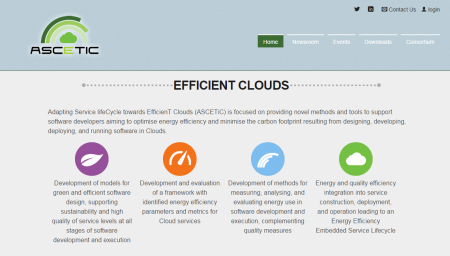 The increased usage of ICT, together with growing energy costs and the need to reduce greenhouse gases emissions call for energy-efficient technologies that decrease the overall energy consumption of ICT. So far, efforts in eco-efficiency have mainly targeted hardware and data center technologies. Less attention has been given to software eco-efficiency. Although it has a direct impact on system's energy consumption; software usually controls how computing equipment is utilized. Covering the full service life cycle, from application design, development, deployment and operation, as ASCETiC ambitions to do, is crucial to determine and optimize the energy usage of the complete system, considering software and hardware as an interrelated mechanisms.
jEPlus tools will make use of the ASCETiC platform and provide an energy efficient simulation back-end for GreenPrefab, one of the project partners. The GreenPrefab system will help architects and designers selecting energy efficient and low carbon solutions for prefabricated buildings.
Go to http://www.ascetic-project.eu/
---
Design Optimisation Competition - DOC2014
Following on from the success of our last Design Optimisation Competition the jEPlus team and DesignBuilder Software joined force again to announce a new round of the competition. The DOC2014 offers the opportunity to use the latest DesignBuilder Optimisation tools and the jEPlus' remote simulation capability to solve a challenging building design problem.
The purpose of the competition is to promote awareness of a new breed of optimisation tools which can help with decision making at any stage of the design process. These tools provide powerful techniques for identifying optimal designs that meet potentially conflicting design requirements such as minimising environmental impact while also minimising development costs and at the same time satisfying constraints such as providing minimum levels of occupant comfort.
Participants will get advance access to the DesignBuilder Optimisation software, which will help give them the best possible chance of winning the competition. Optimisation requires many hundreds of simulations to be carried out to perform an accurate analysis. In DesignBuilder these simulations can be run in parallel on your local machine, on a network server or for the fastest results over the internet on the De Montfort University high performance supercomputer through the JESS service.
Go to http://optimisationcompetition.org/
---
Advanced Design + Optimisation - ADOPT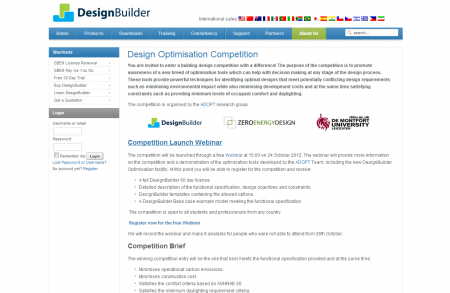 DesignBuilder Software Ltd. (DBS), De Montfort University (DMU) and Zero Energy Design Ltd. (ZED) have teamed up in the research and development of innovative building performance simulation software that can be used to assist design decision making in all stages of the life cycle of low impact buildings. The most significant innovations include: (1) the concept of "one tool, multiple user interface" to meet the demands of different target audiences; (2) the first commercial software with robust algorithmic optimisation capability suitable for selecting practical cost-effective energy-saving measures; and (3) a new on-line service-based business model that will help build a user community and provide easy access to design guidance and facilities.
The primary output of the project will be a low impact building design/decision tool capable of identifying a range of optimal design configurations. The tool will be accessible and useful for a number of industry user groups from architects through property owners to occupants. The new software will be based on DBS's existing industry-leading product, DesignBuilder v3. The expertise of the academic partner (DMU) in cutting-edge optimisation technologies and knowledge of existing UK building stock, plus ZED's expertise in delivering low impact building design will be integrated in the new tool. In addition to the new user interfaces and the optimisation engine, a library of components and templates, cost and carbon emission models, as well as a prototype of the on-line service platform, will be developed.
Go to ADOPT Website
---
Assisted Online Sustainable Building Design - AOLSBD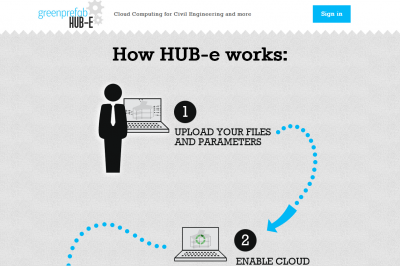 VENUS-C is a project funded under the European Commission's 7th Framework Programme drawing its strength from a joint co-operation between computing service providers and scientific user communities to develop, test and deploy a large, Cloud computing infrastructure for science and SMEs in Europe. AOLSBD is one of the pilot projects of Venus-C, led by the Institute of Technology, School of Architecture, The Royal Danish Academy of Fine Arts, Schools of Architecture, Design and Conservation
Improving the environmental performance of buildings is a major challenge for architects. At the design phase, architects need to take on board a number of often conflicting factors, ranging from building energy performance, optimisation of indoor daylight and the active and passive collection of solar energy for visual, acoustic and thermal comfort, as well as reducing the embodied energy of buildings. As a pilot in VENUS-C, the Royal Danish Academy is developing an eco-efficiency analysis cloud-based service, a complete building energy simulation programme enabling architects, civil engineers and researchers to model the use of energy and water in buildings. EnergyPlus is a new service that is complementary to VENUS-C services for 3D rendering visualisation and the structural analysis of building. These services now form part of an innovation cluster through the HUB-E initiative led by Collaboratorio.
Try it on HUB-E.com
---
Climate change adaptation - CREW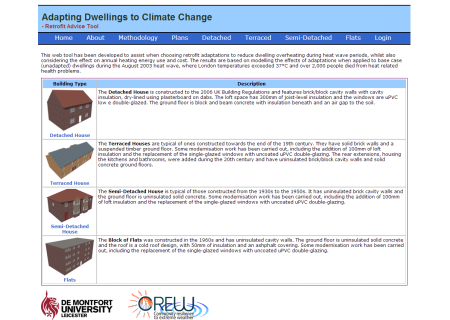 The project 'Community Resilience to Extreme Weather' (CREW) was established to gain a better understanding of the effects of future climate change on extreme weather events, and to develop a set of tools for improving local-community resilience. The Engineering and Physical Sciences Research Council (EPSRC) funding brought together scientists from a range of engineering, social and physical sciences from 14 UK Universities to determine likely future extreme weather events and to seek to develop a set of useful web-based mapping and information tools to capture and explain the latest state-of-the-art extreme weather event.
CREW focussed on understanding the probability of current and future extreme weather events and their likely socio-economic impacts. It was seen that initiatives, such as the Stern Review, provided high-level socio-economic impacts but did not provide the sub-regional or local estimates pertinent at the community and individual scale. Therefore, the CREW consortium sought to investigate these impacts at the local level (on householders, SMEs and local policy/decision makers). The research also investigated the opportunities and limitations for local communities' adaptive capacity. CREW, used five South East London boroughs as case studies, and considered the decision making processes across communities including impediments and drivers of change. A web-based portal was designed and implemented to provide a facility for presenting probable extreme weather events for a range of scenarios, and for presenting and evaluating coping mechanisms.
Go to CREW Project Website
---
HVAC stock modelling - CityNet
The Marie-Curie Research Training Network (RTN) CITYNET aims to develop tools to improve the energy management of large scale urban projects. The common scope of the network research activities is to establish an innovative internet based on-line tool for planning, managing and operating urban quarters with low energy consumption and high renewable energy fraction in order to reduce up to 30% of CO2 emissions.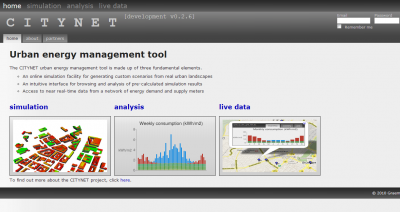 A major research focus of the network is the analysis, optimization, standardization and benchmarking of existing and planned buildings and energy efficient power plants (demand and supply side) of three urban planning sites and the implementation of the results into an intelligent energy management system. This system will provide online monitoring, simulation and visualization using Geographical Information System (GIS) software as the front end.
CITYNET consists of eight university research groups from six different European member countries and Turkey as an associated candidate-country and additionally involves seven commercial enterprises as well as community authorities as hosts for visits. The research will be carried out in civil, mechanical and environmental engineering as well as architecture, building physics, social science, computer science and economy.
---