DOE Commercial Reference Buildings (Chicago)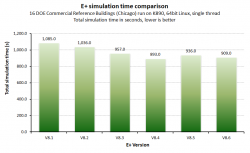 This benchmark set contains the 16 DOE Commercial Reference Buildings for U.S. climate zone 5A (Chicago, IL). The building types include Large/Median/Small Offices, Warehouse, Stand-alone Retail/Strip Mall/Supermarket, Primary/Secondary Schools, Quick/Full Service Restaurants, Hospital, Outpatient Health Care, Small/Large Hotels, and Midrise Apartment, with floor area ranging from 250 sqr.m to 50,000 sqr.m.
Average simulation time of these models on an ENSIMS K890 is under 2 minutes.
Download: RefBuildings Benchmark Set v8.1 - v8.6