Download JESS Client V3
The JESS Client can be used by jEPlus and EnergyPlus users to submit jEPlus projects and EnergyPlus simulation jobs to a JESS server. Instructions on how to use it with DesignBuilder, N++, EP-Launch, the Legacy OpenStudio Sketchup Plug-in, and GenOpt can be found in JESS section.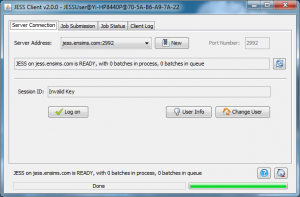 ---
Thank you for reading and agreeing to the End Users License Agreement. If you do not agree with any terms or conditions in the Agreement, please click here: I do NOT agree.
---
V3.0.0 Release Notes
Version 3.0.0, released 1 December 2015. New features include:
Support JESS standard and accelerated E+ simulations, jEPlus projects, Radiance, and Daysim jobs

Revised Command-line options

GUI changes
Version 2.2.0, released 14 September 2015. New features include:
Support JESS run-period split (SPLIT_SINGLE_JOB) option

Command-line option changes

Minor GUI changes
Version 2.0.0, first released 18 December 2014. Key features include:
Required for accessing JESS v1.5

Network transport over SSL

Built-in online upgrade function
---
New installation
Download the JESS Client version 3.0.0 package: jess_client_v3.0.0.zip
Or, if you are using Windows and not sure if Java is available on your system:
Download the JESS Client v3.0.0 package with Java for Windows: jess_client_v3.0.0_jre_for_windows.zip
Unpack the contents into a local folder and use run_gui.bat to start the JESS Client's GUI.